By Valentina Mora Morales, a staff of the Aspire DTS 22
The Aspire DTS has wrapped up for the year and we have been encouraged to see a group of incredible people head out and take on the next steps of their discipleship journey! As we learnt from the graduation night, DTS is an awesome year for many but the best years are still yet to come.
Valentina is from Uruguay and has been a staff member on the Aspire DTS 22. She shares with us about the outreach, Peeps and her overall experience staffing.
The outreach team I was co-leading went abroad to North Africa! The focus of the team was to really help people, which is why everyone wanted to go on outreach. They wanted to see people getting healed and see people turn to Jesus. The reality was that we met a lot of people and helped a lot of people but we didn't see any healing or big miracles happening in front of our eyes. This was hard for the team because they anticipated a lot. The thing was, we were a massive blessing in that place; it was just in a different way!
There was a day our main host came to us and explained how valuable the team had been to them. They had even been praying years ago for a team to bring the joy and love of Jesus as we did. This meant so much to us and we saw how this was also a prayer answer of ours for this outreach! We did help people and we did bring joy, we just didn't see it straight away.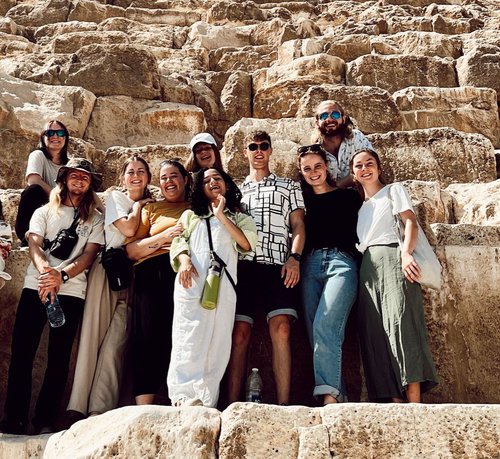 Besides outreach in North Africa we had a team that was doing ministry in Italy, running outdoor camps in the Trentino region. This team was mainly a family of 6 that were part of the Aspire DTS. It was awesome to have them involved and because we had a family in the DTS 'Peeps' was introduced to our base. Peeps was run by Chasity and was a way for the children to get an overview of what the lecture phase was like and overall, what DTS was like. They had the same content as the rest of the DTS but the teachers adapted their teaching and focused on the kids. It was incredible to see how pumped all the teachers were to do these classes!
I couldn't believe what I saw in the kids that joined, I've never seen in my life kids that love Jesus that much. It was insane. They were so engaged with the teachers, and the teachers were so engaged with them! For me, it was really like the bible as I saw them understanding Jesus so quickly and with so much love, they just started to live it out in their lives. As a staff, I think this was great for our community because they were so involved with the bible and we all got to be on the same page throughout each week of the school.
My favorite part about staffing has definitely been the relational part with the students and watching them front row as they were growing in relationship with Jesus.
When the students first arrived I got to know them a bit and hear their insecurities about Jesus and about themselves and the crazy part was being there and seeing the change happening over the 6 months we were together. By the end of the DTS they were preaching and sharing with confidence. I was so pumped to see how they built their relationship with Jesus as their best friend, and I was there to help when they needed it.
There was so much going on during this DTS and for sure I was tired at times but I really learnt to trust God in every little detail, even with those questions that you think are not worth asking about, I was asking Him. Even in the kitchen, I was taking care of the kitchen in the base and sometimes I had bad numbers but there was always enough food! I would know that something was wrong but God was like 'trust Me, it's fine' and we always had enough. Those kinds of details are things we can sometimes look at as coincidences but through prayer I've learnt to trust in God for everything and He answers.